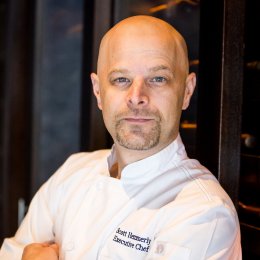 Scott Hemmerly
EXECUTIVE CHEF
Chef Scott is an honors graduate of The Culinary Institute of America in Hyde Park, NY and a First Level Sommelier, certified by the Master Guild of Sommelier.
Hemmerly began his Atlanta culinary career with the prestigious Ritz-Carlton, Buckhead as the Banquet Chef for over 4 years. In 2008, he was part of the opening team for The Mansion on Peachtree, a Four-Diamond, ultra-luxury boutique hotel in Buckhead. After one year he was appointed Executive Chef, where he oversaw all culinary aspects of the hotel. Chef Scott then became Executive Chef at The Peachtree Club, which was recognized as one of the top venues in Atlanta for weddings and catered events during his tenure there. Hemmerly then spent some time as Executive Chef at The Hyatt Regency Pittsburgh, and also served as a member of two local college's Culinary Arts programs Board of Advisors. He later returned to Atlanta as the Executive Chef of the Hilton Atlanta Airport & Towers, where he oversaw all Culinary Operations of 507 guest rooms, 34,000 sq./ft. of meeting space, Andiamo & Magnolia Grill restaurants, Finish Line lounge & In Room Dining. He joined the Ray's Family in Spring of 2017 and has enjoyed the nice balance of a corporate restaurant combined with a true entrepreneurial spirit.
His greatest love in life is his Wife Euriel and Son Emmanuel. A native of Columbus, Ohio, Scott loves his Ohio State Buckeyes as much as he loves to cook. During his off time he can frequently be found wandering mountain hiking trails like the Appalachian Trail. Scott has a passion for farm to table cuisine and is member of PASA (Pennsylvania Association of Sustainable Agriculture), Georgia Organics, Slow Foods USA, as well as being named by The Mother Nature Network "Top 40 Chefs Under the Age of 40".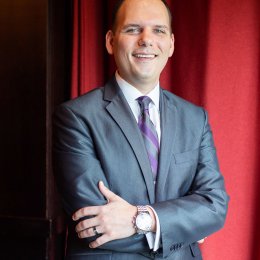 Nicholas King
General Manager, Ray's on the River
For Ray's on the River General Manager, Nick King, management has always been a lifelong passion. It all started in ninth grade when Nick managed the school store at Flowery Branch High School, handling all of the daily operations, ordering, and budgeting for the store. Nick's first brush with the restaurant industry came from washing dishes at age 13 with a local catering company, and a few years later Nick's passion for the restaurant industry was realized when he worked his way up to the position of Banquet Captain for Chateau Elan while still attending high school.
From there, he moved on to Hilton Hotels, where he fine-tuned his management skills, and worked his way up until he eventually held the position of Director of Food and Beverage. During his twenty-year tenure in the industry, Nick has worked for world-renowned brands like W Hotels, Renaissance Hotels, and most recently Marriott International. At the heart of Nick's passion for management is a passion for people, and his guiding philosophy is one that sticks with him from his days at JW Marriott "the way we do business is more important than the business we do". Nick says that his favorite thing about being the General Manager of Ray's on the River is that he loves that he gets to be part of so many special memories- from birthdays to anniversaries, and that he has the unique opportunity to make things memorable. When Nick isn't in the restaurant, you can find him with his wife and two sons on the water or playing Legos.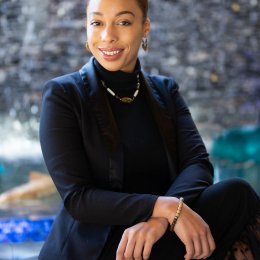 Desirey Virgin
SALES & EVENTS MANAGER
In 2011, Desirey began her professional career as a Finance Analyst for a notable Marketing Company in Atlanta, GA. A few years later after falling in love with the allure of South Beach she relocated. Intrigued by the food and beverage industry, her hospitality journey began at the Thompson Hotel as the Food and Beverage Coordinator working alongside notable celebrity chefs. She also worked in private dining sales in the illustrious Ritz- Carlton, Bal Harbour as the Private Events Manager. After 5 years living in South Florida, Desirey moved back to Atlanta working as a Sales Manager at the Whitley Hotel specializing in Weddings. Now, she is excited to begin at Ray's on the River as the Sales and Events Manager.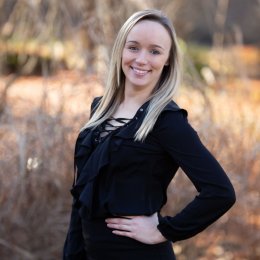 Amber Williams
SALES & EVENTS ASSISTANT
Amber Williams, an Albany, GA native, began her career in the restaurant industry in 2008, at the age of 16. She began hosting for a local restaurant group, where she quickly moved up to serving and bartending in the restaurant, as well as off-site events. Once she began working catering events, her passion for party planning was awakened. In 2016 Amber decided to take a leap of faith and move to Atlanta to begin her new career with Ruth's Chris Steak House. After taking a year off to spend with her first son, she decided it was time to make a career change and progress to Ray's on the River. In January of 2019 she began serving at Ray's, and within a few months, she chased her passion into the Sales and Events office. She is excited and eager to grow with the Ray's family.