An Atlanta Tradition Since 1984
Fresh Seafood & Fine Cut Steaks
Take a Virtual Tour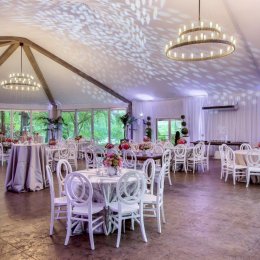 Currently at Ray's on the River
Ray's Dining Club
Rewards with every visit to any of our restaurants!  Complimentary enrollment fee for a limited time only.  Join today by visiting any of our three locations and request a Dining Club card from your server.
Steak & Lobster Specials at Ray's!
This summer, indulge in our steak & lobster specials! Enjoy three-course menus featuring Signature Steaks & Pristine Lobsters for One (41) and for Two (73) for a limited time. Begins 6/17. SEE THE MENU
Live Music
Enjoy Live Music in our Bar & Lounge every Thursday through Saturday Evening!
Tour our Newly Renovated Riverside Pavilion Today!
Accommodations for up to 180 guests, panoramic views of the Chattahoochee, custom lighting, elegant landscaping, and more!  Perfect for weddings, birthdays, anniversaries and corporate events.
Monthly Wine Feature
Enjoy three of our favorite wines from the acclaimed Rodney Strong Vineyards at a special price. For every case we sell, Rodney Scott will donate $10 to CORE (Children of Restaurant Employees), a non-profit group that focuses on the well-being of children whose parents work in the service industry. Available in 6oz & 9oz glasses or by the bottle.
2016 Reserve Chardonnay 15 22 60
2015 Symmetry Red Meritage Blend 20 30 80
2015 Alexander's Crown Cabernet Sauvignon Bottle Only 100
A Beloved Atlanta Fine Dining Experience!
Ray's on the River has been a beloved Atlanta fine dining tradition since 1984. Situated along the Chattahoochee River, take in serene views and enjoy a menu filled with classic Ray's dishes, including fresh seafood flown-in-daily, prime cut steaks, regionally-grown vegetables, hand-crafted cocktails and an award-winning wine list.
Voted as a Top 100 Brunch Restaurant in America
Served every Sunday from 10:30AM-3:00PM
Your Special Event Handled With Care
Our team includes award-winning chefs, a highly-trained service staff and a dedicated events manager that will work with you every step of the way as you plan your event.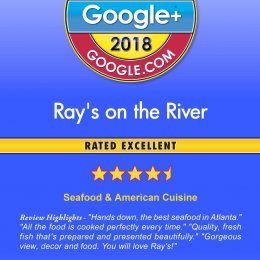 Accolades & Awards
It is an honor to be awarded and recognized for delivering exceptional culinary and service experiences. Thank you to our incredible patrons for allowing us to serve you and be a part of so many wonderful memories!