Ray's at Killer Creek
Private Dining
We are so pleased you are considering Ray's at Killer Creek for your special event! With several different room options that can accommodate up to 70 guests and delicious menu selections, we know that we can offer you a truly memorable event. Hosting a group larger than 70 guests? Daytime, full restaurant buyouts are also available!
Our team includes a great culinary team, as well as a highly trained service staff and a dedicated Events Manager, who will work with you every step of the way as you plan your event.

If you do not see something you are looking for in our private party information, please ask. We will do everything we can to make your event special and one that guests will talk about for years to come!
The Cellar Room
Perfect for an intimate event, the Cellar Room is a private dining space located off of the main dining room. You will feel warm and cozy thanks to the rich wood, stone hearth and glow of the fireplace.
Room Highlights
Accommodates up to 26 guests seated
Private dining areas
Natural light during daytime events
Rich wood and stone finishes
52″ flat screen digital TV for presentations
Digital TV satellite dish equipped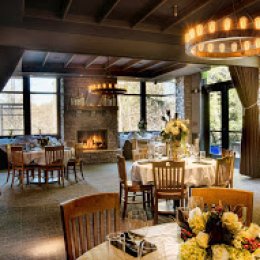 The Wine-Jordan Room
The Wine-Jordan is an excellent option for larger events up to 60 guests seated. Enjoy being surrounded by towers of fine wines and rich natural finishes. Extend the party into our private outdoor courtyard, and you'll feel transported to a beautiful garden far away from Alpharetta.
Room Highlights
Accommodates up to 60 guests seated
Private dining area
Space can be divided for more intimate gathering
Connects to outdoor courtyard
52″ flat screen digital TV for presentations
Digital TV satellite dish equipped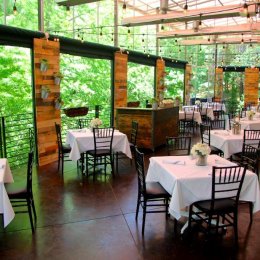 The Creek Terrace
The Creek Terrace is a spacious outdoor patio surrounded by lush trees and flowers that overlooks Foe's Killer Creek and the Upper Chattahoochee Natural Forest Preserve. Your event can be set up family style, with one or two long tables, or more formally with separate table groupings.
Room Highlights
Accommodates up to 70 guests seated
Covered outdoor dining area
Surrounded by lush trees and flowers
Complete with heaters and fans
I have received nothing but rave reviews from all my guests. Everybody had a great time – food was great and the service superior. Everything went smooth and you guys handled my very last minute extra headcount with characteristic aplomb. The Wine Jordan room and patio were most accommodating for dining and especially socializing as most of the guests did not know each other.
Tim, Atlanta, GA
We had an absolute blast and loved the bar backdrop of greenery and flowers! Thanks so much for all of your help and making my event a success. Really appreciate it and look forward to working with you/your team again in the future. The bartenders (especially the young man) were outstanding. He had great recommendations and knew what he was doing!
Leigh, Atlanta, GA
Ok this is the place if you ever need to have a large group event. Wonderful atmosphere with the inside dinner and outside Cocktail party!' Food was over the top excellent and the wait staff and bartenders were amazing serving our rowdy group from all over the USA , Canada, Europe and Australia! Kelsey and her team delivered as promised and the entire evening was my daughter and her new husbands dream to meet and greet our out of town guests.
Maryanne, Alpharetta, GA
The event could not have been better and everyone raved and loved the food! The staff was exceptional as were you and I appreciate all of your help making it happen. Hope to see you soon when we move to Alpharetta in March and look forward to dining at Rays.
Brad, New York City, New York