$25 Happy Hour Steaks & Spring 3 Course Menu
We are celebrating 25 Years with $25 Steaks & our Spring 3 Course Menu!
Ray's at Killer Creek has been a dining destination for Alpharetta residents, serving premium steaks and fresh seafood, since we opened 25 years ago. To celebrate our 25th anniversary, we are offering $25 steaks, available from every Monday. And Prime Time, Tuesday through Thursday (4pm-5:30pm in the lounge; 4:30pm-5:30pm in our main dining room).
Make your reservation today!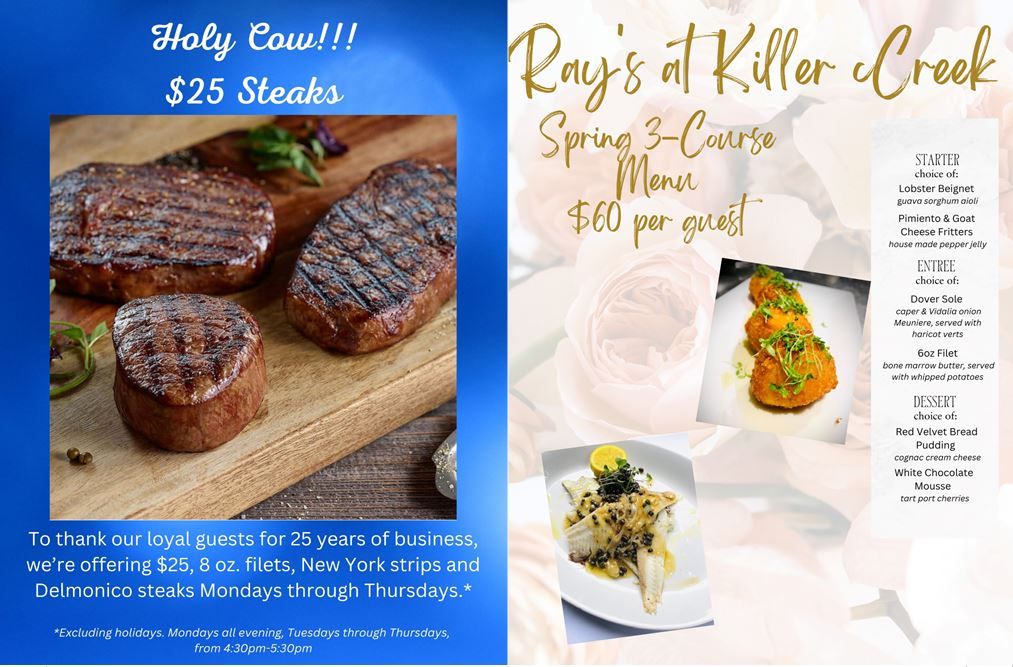 SUNDAY BRUNCH BUFFET
Our Sunday Brunch Buffet is BACK, and expanding with new menu items each week! We will be open from 11am-3pm every Sunday, $50 per person (price and menu items may vary on holidays). Make your reservation now or call 770-649-0064.
Brunch menu items will include*:
Prime Rib
Cedar Plank Honey Salmon
Blackened Salmon
Sesame Crusted Chicken Tenders
Pepper Crusted Pork Tenderloin
Brabant Potatoes
Southern Style Baked Mac 'n Cheese
Roasted Seasonal Vegetables
Assorted Fresh Fruit
Ray's Salad Bar
Made to order Omelettes
Farm Fresh Scrambled Eggs
Buttermilk Waffles
Vanilla Bean French Toast
Thick Cut Neuske Bacon
Fresh Baked Pastries
Chesapeake Blue Crab and Smoked Fish Dip
Pimiento & Goat Cheese Fritters
Peel & Eat Shrimp
Classic Eggs Benedict
Chef's Selection of House-Made Dessert
*Menu items may be substituted depending on availability of product. These are just some of the items offered.
STARTERS
CHILLED SEAFOOD TOWER

Freshly shucked cold water oysters, colossal shrimp cocktail, whole Maine lobster, jumbo lump crab meat, king crab legs

HOT SEAFOOD PLATTER

Ray's New Orleans BBQ shrimp, crispy calamari and shrimp, Oysters Rockefeller, jumbo lump crab cakes

COLD WATER OYSTERS

Atomic cocktail sauce, champagne mignonette

ARTISANAL BREAD BASKET

Locally sourced, seasonal focaccia, pretzel, sourdough, raisin walnut, lavash, Banner butter

GOAT CHEESE PIMENTO FRITTERS

House-made pepper jelly

NEW ORLEANS BBQ SHRIMP

BBQ butter, crispy leeks, Boursin grit cake

WBO OYSTERS ROCKEFELLER

Pernod, spinach, Zoe's applewood smoked bacon, hollandaise

AHI TUNA POKE*

Avocado, cilantro, red onion, toasted macadamia nuts, citrus ponzu, shrimp crackers

COLOSSAL SHRIMP COCKTAIL

Atomic cocktail sauce, Ray's Louis sauce

WAGYU BEEF EMPANADAS

Caramelized onion, sazon, smoked chili aioli

CRISPY CALAMARI & SHRIMP

Point Judith calamari, pickled sweet peppers, house made marinara, Ray's Louis sauce

JUMBO LUMP CRAB CAKE

Creole mustard beurre blanc, roasted corn relish

WBO SPINACH & ARTICHOKE FONDUE

Monterey jack, aged Parmesan, crispy pita chips
SALADS
RAY'S NUTTY SALAD

Artisan greens, smoked almonds, walnuts, pumpkin & sunflower seeds, goat cheese, dried cranberries, red grapes, Matzu apples, roasted onion balsamic

BABY GEM CAESAR

Baby Gem lettuce, shaved pecorino, herb croutons, Caesar dressing

STEAKHOUSE WEDGE

Zoe's Applewood candied bacon, Statesboro blue cheese, scallions, tomatoes, balsamic drizzle
RAY'S HAND-CUT STEAKS
Ray's at Killer Creek serves top quality Certified Angus Beef that is wet-aged 21-28 days to reach ultimate tenderness and taste.
BONE-IN COWBOY RIBEYE

24 oz
CHEF'S SUGGESTIONS
PORCINI-RUBBED BONE-IN RIBEYE*

with 25 year aged balsamic

SURF & TURF*

8oz filet mignon and 7oz cold water lobster tail, whipped potatoes

NEW YORK STRIP* & SHRIMP

14 oz NY Strip, BBQ butter shrimp, crispy onion garnish

HOMESTEAD FARMS SHORT RIBS

Yukon Gold whipped potatoes, cippolini onions, baby carrots, BBQ red wine demi
SIGNATURE SEAFOOD, PASTA & POULTRY
HONEY GLAZED SALMON*

Faroe Island, local honey, quinoa & farro, sautéed kale, roasted cauliflower

JUMBO LUMP CRAB CAKE

Whipped potatoes, roasted corn relish, grilled asparagus, Creole mustard beurre blanc

HORSERADISH CRUSTED HALIBUT

Horseradish butter cracker crust, seasonal vegetables, dijonnaise

PAN SEARED SCALLOPS

Colossal day boat scallops, romesco sauce, Ray's smoked bacon jam, succotash

CHEF'S WHOLE FISH

Wood burning oven, seasonal selection

SHRIMP SCAMPI LINGUINI

Sauteed shrimp, white wine, garlic, herbs, olive oil

WAGYU BEEF MEATBALLS

Roasted garlic marinara, ricotta cheese, Parmesan, linguine

CHICKEN PICCATA

Springer Mountain Farms chicken, lemon butter caper sauce, garlic butter, Angel hair pasta, pecorino cheese, fresh herbs
SHAREABLE SIDES
BRUSSELS SPROUTS & CAULIFLOWER

GARLIC CREME FRAICHE BROCCOLINI ALMONDINE

MONTREAL SPICED POUTINE FRIES
RAY'S ONLINE ORDERING
To-Go Menu: Exceptional Dining at Home

SPARKLING & CHAMPAGNE
"We have partnered with some of the greatest and most well-renowned wineries to provide you with a unique menu offering extraordinary blends by the glass at an unprecedented value...a menu that, unlike any other, allows you to enjoy a variety of truly fine wines throughout each course of your dining experience."

- Ray's Restaurants
COL SOLIVO

Prosecco, Veneto, Italy

MOET CHANDON

Champagne, France

DOMAINE CHANDON

Brut Rose, CA
WHITE, ROSE' & ALTERNATE WHITES
Pinot Grigio, Delle Venezie, Italy

FLEUR DE MER ROSE'

6oz/9oz

Cotes de Provence, France


Sauvignon Blanc, Marlborough, New Zealand

Sauvignon Blanc, Napa Valley, CA

J VINEYARDS & WINERY

6oz/9oz

Chardonnary, Russian River, CA

Chardonnay, Bourgogne, France

Chardonnay, Russian River Valley, CA

Chardonnay, Napa Valley, CA
RED
ANTHONY & DOMINIC

6oz/9oz

Pinot Noir, North Coast, CA

Pinot Noir, Willamette Valley, OR

Pinot Noir, Willamette Valley, OR

Red Blend, Paso Robles, CA

Zinfandel, Dry Creek & Amador, CA

Merlot, Sonoma & Napa County, CA

Malbec, Mendoza, Argentina

Malbec, Mendoza, Argentina

by Benziger Family Wines, Cabernet Sauvignon, California

Cabernet Sauvignon, Paso Robles, CA

Cabernet Sauvignon, Napa Valley, CA
WINE BY THE BOTTLE
Our wine portfolio has been recognized by Wine Spectator with an 'Award of Excellence,' as it appeals to a wide range of wine lovers by including practically every appellation, varietal, and price point the magnificent world of wine has to offer. Please do not hesitate to ask your server or one of our "Ray's Wine Ambassadors" to assist you in choosing the perfect complement to a perfect occasion, as our beloved guest.
Our Wine Ambassadors here at Ray's truly live by the mission statement; "Providing exceptional wines to inspire passion, knowledge, and fellowship." Please enjoy and Cheers from everyone at Ray's at Killer Creek!
NIGHTLY DRINK FEATURES
Available in the Bar & Lounge from 4pm-Close
MONDAY: "Margarita Monday"- Celebrate the beginning of the work week with a margarita on the rocks - $8
Classic Margarita * Peach Margarita
TUESDAY: "Tini Tuesday - $10
Maytag Martini * Georgia Tini
WEDNESDAY: "Whiskey Wednesday"
Impersonator $10 * Eagle Rare, 2oz, $7
THURSDAY: "Tito's Thursday"
$7 - 2oz Tito's | $11 Tito's Martini
FRIDAY: "Old Fashioned Friday"- $10
classic Bulleit or Woodford Old Fashioned * Fig Old Fashioned
COCKTAILS & MARTINIS
SWEET PEACH MARGARITA

Tequila, Peach Schnapps, fresh sour mix, agave nectar & peach bitters

THE GRAND MARGARITA

Camarena Reposado Tequila, Grand Marnier, Triple Sec, fresh sour mix, orange juice, lime

GINGER BASIL GIMLET

Gin Mare, Cartron and Cartron Gingembre Liqueur

FIG OLD FASHIONED

Fig infused 1792 Bourbon, black walnut bitters

SEASONAL SANGRIA

Rotating red or white wine, seasonal fresh ingredients

BLUE BRAMBLE

St. George Terroir Gin, fresh lemon juice, simple syrup, Blended Family blueberry liqueur (made in Roswell, Georgia)

EYE CANDY

Bare Bone Vodka, blackberry syrup, Elderflower Liqueur, lemon juice

MAI TAI

Rumbullion Spiced Rum, Hamilton Beachbumb Zombie Rum, Dry Curacao, orgeat, fresh pineapple

CHERRY SOUR SMASH

Angles Envy Bourbon, Genitian Amaro, 18.21 Blood Orange, Tart Cherry, Ginger Shrub

GEORGIA TINI

Absolut Peach Vodka, peach schnapps, fresh oj

CLARIFIED APPLETINI

Hanger One Vodka, Massenez Pomme Verte, Cinzano Bianco, simple syrup

LEMON DROP MARTINI

Absolut Citron, lemonade, sugar-coated rim

MAYTAG MARTINI

Grey Goose vodka, Filthy stuffed blue cheese stuffed olives

SOUTHERN FASHION

Corazon Silver, Aperol, fresh oj, Angostura bitters

IMPERSONATOR

Cask Stellum Bourbon, honey syrup, lime, Angostura bitters, ginger beer and dark rum floater
LOCAL CRAFT BEER
CREATURE COMFORTS BIBO PILSNER

Athens, GA

ALLAGASH WHITE WHEAT BEER

Portland, Maine

SWEETWATER 420 EXTRA PALE ALE

Atlanta, GA

3 TAVERNS "A NIGHT ON PONCE" IPA

Decatur, GA

MONDAY NIGHT "SLAP FIGHT" IPA

Atlanta, GA

SCOFFLAW POG BASEMENT IPA

Atlanta, GA

ORPHEUS "TRANSMIGRATION OF SOULS" DOUBLE IPA

Atlanta, GA

GATE CITY "COPPERHEAD" AMBER ALE

Roswell, GA

JEKYLL "COOTER" BROWN ALE

Alpharetta, GA

REFORMATION "CADENCE" BELGIAN STYLE ALE

Woodstock, GA

MONDAY NIGHT "DRAFTY KILT" SCOTCH ALE

Atlanta, GA

REFORMATION "TERMINUS" PORTER

Woodstock, GA

BURNT HICKORY "BIG SHANTY" GRAHAM CRACKER STOUT

Kennesaw, GA
BOURBON & RYE
13TH COLONY SOUTHERN BOURBON • ANGEL'S ENVY BOURBON • ANGEL'S ENVY RYE • BAKER'S • BASIL HAYDEN'S • BOOKER'S • BRECKENRIDGE BUFFALO TRACE BULLET BOURBON • BULLEIT RYE E.H. TAYLOR SMALL BATCH • E.H. TAYLOR STRAIGHT RYE ELIJAH CRAIG 12 YR • ELIJAH CRAIG BARREL PROOF ELMER T. LEE SINGLE BARREL • FOUR ROSES SMALL BATCH HIGH WEST DOUBLE RYE • HIGH WEST RENDEZVOUS JEFFERSON OCEAN • JEFFERSON'S RESERVE • JIM BEAM KNOB CREEK • KNOB CREEK SINGLE BARREL RESERVE LARCENY • MAKER'S MARK • MAKER'S 46 MICHTER'S US 1 BOURBON • MICHTER'S US 1 STRAIGHT RYE NOAH'S MILL • OLD FORESTER SIGNATURE 100 OLD POTRERO 18TH CENTURY • ORPHAN BARREL FORGED OAK 15 YR ORPHAN BARREL RHETORIC 20 YR • RIDGEMONT RESERVE 1792 RITTENHOUSE RYE • ROCK HILL FARMS • SAZERAC 6 YR RYE STAGG JR • WHISTLE PIG RYE • WIDOW JANE WILD TURKEY 101 • WILLET POT STILL RESERVE WILLET STRAIGHT RYE WHISKEY W.L. WELLER ANTIQUE COLLECTION • W.L. WELLER 12 YR WOODFORD RESERVE • WOODFORD RESERVE DOUBLE OAKED WOODFORD RESERVE RYE