Unforgettable Dining in Alpharetta
The Neighborhood's Premier Steakhouse
Take a Virtual Tour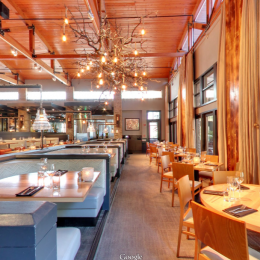 Currently at Ray's at Killer Creek
Prime Rib Dinner Feature
Every Friday & Saturday Evening, enjoy our 12oz Prime Rib Dinner served with Yukon Gold Whipped Potatoes for only $34.95! Complement your meal with one of Shafer's finest at an incredible price: One Point Five Cabernet Sauvignon ($90), Red Shoulder Ranch Chardonnay ($60), TD-9 Proprietary Blend ($60)
Private Dining & Restaurant Buyouts
Private Dining available for daytime and evening events; Full Restaurant Buyouts also available during the daytime. We look forward to hosting your event at Ray's!
Rosé Fri-Yay on the Creek Terrace
Join us every Friday in May for Rosé Fri-yay! Enjoy light bites, rosé specials, and live music.
Wine and Good Conversation
Purchase a $20 Passport to the World of Wines, every Thursday from 6pm-9pm in the Bar & Lounge, and enjoy three 4oz pours of wordly wines paired with Chef Fuller's Culinary Bites!
Stag's Leap Wine Cellars Wine Feature
Enjoy great wines at a great price, now through the end of June:
Artemis Cabernet Sauvignon 22 glass | 88 bottle
Karia Chardonnay 16 glass | 64 bottle
Aveta Sauvignon Blanc 14 glass | 56 bottle
Award-Winning
Bourbon List
Did you know that Ray's at Killer Creek has one of the most impressive and extensive Bourbon lists in the entire metro-Atlanta area? Our bar & lounge offers full menu service all day and evening. Kick back, relax and enjoy time with family, friends and colleagues.
Indulge Yourself Complete the Experience
A delicious assortment of desserts
Your Special Event Handled With Care
Our team includes award winning chefs, highly trained service staff and a dedicated Events Manager that will work with you every step of the way as you plan your event.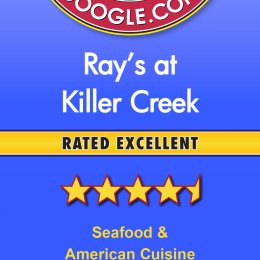 Accolades & Awards
It is an honor to be awarded and recognized for delivering exceptional culinary and service experiences. Thank you to our incredible patrons for allowing us to serve you and be a part of so many wonderful memories!