Ray's Gift Cards
Give the Gift of Great Taste
Gift Cards & E-certificates available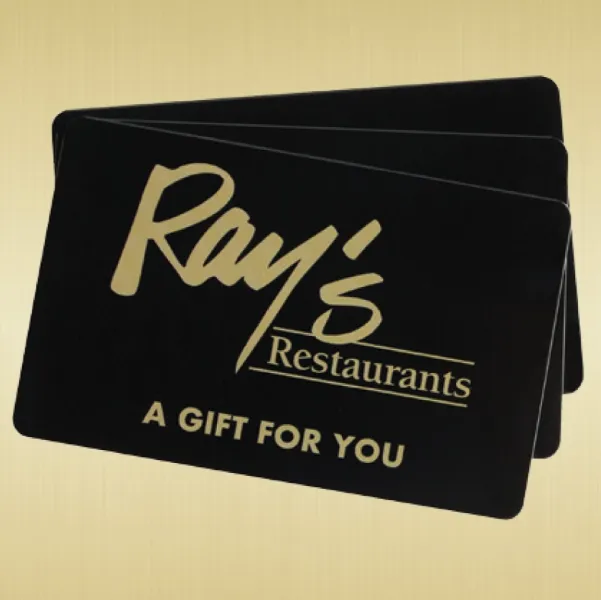 Give an Iconic Atlanta Experience
E-certificates are only available for purchase online, and can be used at Ray's at Killer Creek, Ray's on the River and Ray's in the City! Due to the high holiday volume, please allow up to 24 hours for your e-certificate to be received. Gift cards can be purchased at any of our restaurants or online by clicking the link below, and are good for use at all 3 Ray's locations. Online Gift Card purchases will include a $3.95 mailing fee to your order. Send the gift of food and fun by email with an E-certificate! Click on the "Purchase a Gift Card or E-certificate" link above, then click on "Purchase Gift Card." You will then have your choice to purchase a plastic Gift Card or an eGift Card!

For your Gift Card or E-certificate balance, please click "Check Your Balance" above and be sure to include your Pin #, which you will need to scratch off on the bottom left of your card. If your card does not have a Pin #, please email the card number to rayscards@raysrestaurants.com for your balance.
*Please note that we are only able to mail gift cards to the credit card billing address. If you wish to mail a gift card to a separate address, other than the billing address, you may purchase an e-certificate. E-certificates are valid at all 3 Ray's locations.

For E-certificates with a 14 digit number, or a Ray's Gift Card, please send your card number, ePin number and questions to rayscards@raysrestaurants.com. E-Certificates are only available online. If you have questions or issues regarding E-Certificates purchased through Open Table, and have an 8 digit certificate number, please email gifts@opentable.com or contact Open Table Customer Support at 1-888-503-7558.
Ray's E-certificates and Gift Cards
Perfect for thank you gifts, staff rewards, gifts for friends & family, client appreciation or yourself!